Eglinton News/Events
Major news and events in the Eglinton area
2015 Events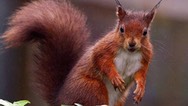 October 2015 - Red Squirrel Day - more
North West Red Squirrel group were delighted with the attendance of over 60 people at their Red Squirrel Day on Saturday 10th October at Muff Glen, Eglinton. nwredsquirrel.org
Archived Events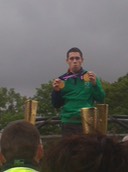 September 2012 - Jason Homecoming Parade -  more
Jason Smyth from Eglinton broke his own world records on his way to retaining gold in the 100m and the 200m at the 2012 Paralympic Games in London.

April 2011 - Eglinton Bypass - A2 Maydown to City of Derry Airport
The A2 forms part of the Northern Key Transport Corridor linking the Belfast Metropolitan Area to Londonderry via Coleraine.  The scheme consists of the provision of 6.2km of  dual carriageway by the upgrading of the A2 to dual carriageway standard between Maydown and the City of Derry Airport
March 2011 - Eglinton Kidney Donor- more
A 73-year-old Eglinton man and his daughter are recovering at home after she donated a kidney to him.

September 2009 - Eglinton Quads Start School- more
Wednesday 16-September was the first day at school for Eglinton quadruplets Sarah, Peter, Lucy and Charlotte Somerville - and they took it all in their stride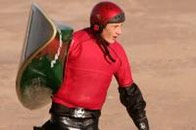 August 2009 - Eglinton has another world champion - more
Eglinton teenager Corin King secured a Junior IC (International Class) World title at the recent championships, which took place in Portugal and he also had a second place in the Junior HP (High Performance) section

November 2008 - Eglinton Play Park  - more
Work was completed on the development of a new play environment in Eglinton at a cost of £250,000.

September 2008 - Jason Homecoming Parade  - more
Jason Smyth from Eglinton has broken world records on his way to gold in the 100m and the 200m at the 2008 Paralympic Games in Beijing.  See pictures from Jason's welcome back to Eglinton held on Saturday 20th Sept.